The Diamond in Plaza-Midwood opened last Friday, Feb. 18, and it's drawing in big crowds. When I stopped by Wednesday evening, there was a 30 minute wait at 5:50 pm. By the time I left at 7:30, the line of people waiting had grown even longer.
The look: Walls are lined with kitchy blue wallpaper with a kitchen utensils print, a jukebox sits in a little nook near the back, and a 70s-style starburst chandelier hangs in the middle of the restaurant. The blue plastic booths were tightly packed with both older folks and families with kids alike.
On the menu: Salads, lots of Southern veggies and sides, burgers, hot dogs, spaghetti, Spanakopita, meatloaf, fried chicken, sandwiches, pulled pork, breakfast all day, and more.
Items I'd order again: The deep-fried pork shanks know as "Pig Wings," served with BBQ sauce and honey mustard, were winners at the table. Hushpuppies were nice and crunchy and the serving size was generous. The fried corn was juicy, and the mac and cheese was, well, cheesy.
Things I'd avoid next time: The vegan Meatless Loaf. The vegetable-filled "meatloaf" was strangely sour-tasting. The waitress confirmed that the recipe wasn't made quite right that night and was too heavy on the vinegar. The cornbread was dry and flavorless, and the biscuits were disappointingly dry as well.
By 6 pm, many menu items were already sold out, so be prepared with backup options when you place your order. The restaurant is new though, so they're still working out the kinks.
Here are a few photos of my dinner at The Diamond: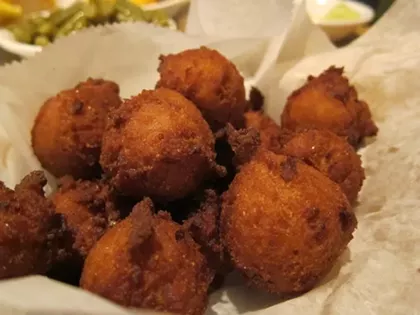 22 slides