Is the big CLT freeze giving you cabin fever? Well, throw on a parka and brave the arctic this weekend to grab a bite at one of these local eats to warm you up. Save the snuggling for later.
Dish, located in Plaza Midwood, recommends (with no hesitation I might add) their homemade Chicken and Dumplings, served with a fluffy biscuit and a deviled egg. Now that's some Southern comfort.
Halcyon Flavors From the Earth, located inside the Mint Museum Uptown, serves up a meaty winter dish with their Braised Bison paired with potatoes (potato pave to be exact). That'll get your metabolism pumping and blood flowing.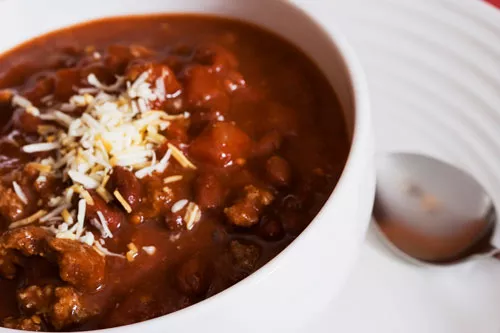 We all know there's nothing like a good bowl of chili on a winter day, but how about four? Lupie's Café features four types of chili on their menu for lunch or dinner — Texas, Cincinnati, Vegetarian and Southern. Dunk a piece of cornbread in there and you're golden.
Letty's, located in Plaza Midwood, brings a little coastal cuisine to the frigid Queen City with a bowl warm New Orleans inspired Shrimp Creole, served in a traditional Louisiana sauce over rice.
Not feeling any soupy goodness? Block & Grinder suggests the Smoked Pork Cheeks with Mushroom Bread Pudding. Sometimes a simple hot dish is enough to distract you from icy toes and wind-induced sniffles.
Where do you like to go for a piping hot meal?