Always ready to go brunching, I'm happy to announce there is a new brunch spot for you to check out.
Bask on Seaboard at the N.C. Music Factory is now open for Sunday brunch service. With an outdoor patio, it's a great place to catch some rays and grab a casual bite with friends.
From 11 am to 3 pm, they are serving up omlettes, an assortment of benedicts on brioche toast, smoked salmon on potato pancakes, orange french toast, and more. All brunch entrees come with your choice of side (homefries, baked muffin, grits, bacon, sausage or fresh fruit).
For my entree, I tried the potato pancakes ($8). The dish consisted of three mashed potato-like fried cakes topped with smoked salmon and a chive, dill cream. They don't skimp on the fruit – the side of fruit I was served consisted of a nice mix of melon, blueberries, raspberries, and blackberries.
As for the other brunch dishes at the table, they were well presented and pretty tasty. While you're there try one of their sanguine hand-squeezed blood orange mimosas.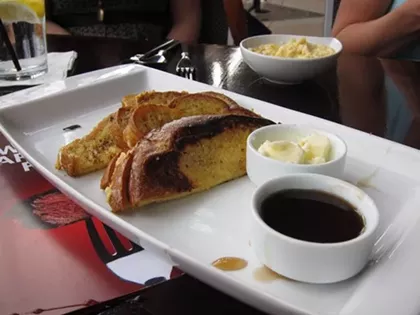 8 slides
Bask on Seaboard
1000 Seaboard Street
Suite S 1
Sharlotte, NC 28206
980-613-8282