Krazy Fish restaurant sure is crazy – but in a good way.  The Central Avenue eatery, which opened three weeks ago, is to restaurants what the Thirsty Beaver is to bars: It's a bit kooky, but an awesome find. It's self-described as "World Soul Seafood Fusion in Plaza-Midwood with legendary flair."
Krazy Fish has "interesting" arts-and-crafts projects hanging from the ceiling, a mermaid that's wrapped in black cloth and white tulle (which sort of looks like a French maid), stuffed Nemos, green tinsel seaweed (is that what it's supposed to be?), paint-splattered booths, and sparkly acrylic-covered tables.
The menu is just as fun with an assortment of tempura tacos and unique salsas (i.e. blueberry tamarind chutney), roti (tortillas stuffed with "Krazy" filler, rice and your choice sauce), Thai-influenced dishes, bollio sandwiches, and seafood-heavy entree plates.
For an appetizer we ordered the red curry shrimp, which was tempura shrimp in a Thai-style red curry sauce and a mound of rice and tortillas on the side. It was so delicious my friend really couldn't get enough of the red curry sauce and she dipped everything into it.
I tried the Southern pulled pork taco with blueberry tamarind chutney as well as the poached shrimp taco with salsa de arbol. Served on lightly fried tortillas, both were extremely flavorful and juicy.
For dessert I got the mango creme brulee which is not a traditional creme brulee, but ridiculously ... er, krazy good. It's more like a fried doughnut with a warm coconutty custard in the middle. It's ridiculous. Get it if you go.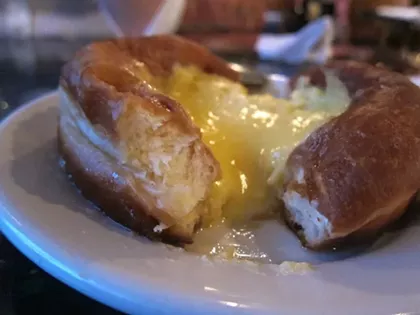 21 slides
Krazy Fish
2501 Central Avenue
Charlotte, NC 28205
704.332.1004