Few things can get our motors revving bright and early like that morning java jolt. The money spent on those on-the-go cups of joe can add up quickly though, so if you have a chance to get one for free, why wouldn't you? This Wednesday, Nov. 9, Bruegger's Bagels is letting you do just that.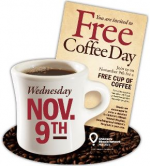 "Free Coffee Day" kicks off Bruegger's 2011-2012 national fundraising campaign for Children's Miracle Network Hospitals around the U.S. Walk into any Charlotte Bruegger's location, get a free of charge, medium-sized drip coffee, and donate your spare change (or more) to Levine Children's Hospital. There you have it, charity work made both easy and convenient. A portion of proceeds from Bottomless Mug sales, which gives guests who purchase a Mug unlimited free refills on coffee, tea, or soft drinks for a full year, will also go to Levine Children's Hospital. The company hopes to raise $100,000 for children's hospitals throughout the country.
Haste makes waste-the promotion is valid until 2 p.m. Don't hesitate to use this opportunity to get yourself a complimentary caffeine buzz, for a cause.