Originally created in Germany, "dining in the dark" is a new experience that is sweeping the country and has finally found its way to little ol' Charlotte. It's supposed to be a feast for the senses. When one of your senses is defunct, your other senses work overtime to tell your body what is going on. So dining without vision should enhance the flavors of any dish and as a result enhance the entire eating experience.
However, on Tuesday, Oct. 9, this concept was combined with a benefit for Foundation Fighting Blindness. The nonprofit works to fund and promote research that will "provide preventions, treatments and cures for people affected by retinitis pigmentosa (RP), macular degeneration, Usher syndrome, and [other] retinal degenerative diseases."
Diners at this particular event didn't actually "dine in the dark" as the original concept calls for, but instead we were wore blindfolds that shut out all light.
The Pro Photo Group
An attendee attempting to eat while blindfolded
The benefit was held in a ballroom at the Ritz Carlton in Uptown Charlotte. The meal was simple, beginning first with Caesar salad with a crusty hunk-of-bread sized crouton. This part of the meal was eaten sans blindfold.
Diners at their Caesar salad sans blindfold which allowed us to get familiar with our table.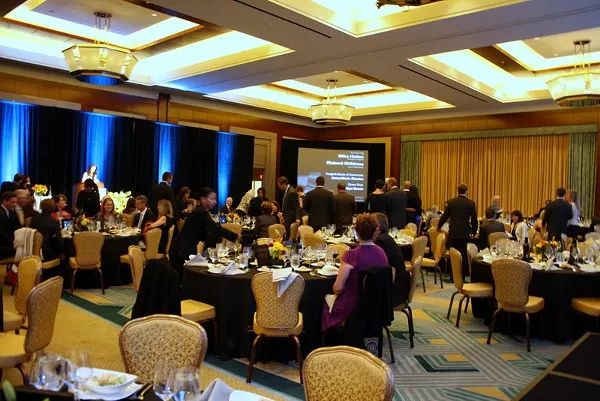 The event was held in a ball room of the Ritz Carlton Hotel in Uptown.
During the first course, several speakers got up to honor Richard Childress, president and CEO of Richard Childress Racing and proprietor of Childress Vineyards, and Mike Helton, president of NASCAR, with Visionary Awards for their work with the foundation. After awards were given, it was time for the main course. My dinner companions and I carefully slipped on our blindfolds and waited patiently for the thump of dishes being set in front of us. I joked that we would have to skip the general rule of thumb that one should always wait until their fellow dinner guests were served to begin eating. How would we ever know who had been served or not?
Eating with a blindfold on was awkward, to say the least. I stabbed aimlessly at my plate and soon learned that we had been served baked chicken and mashed potatoes. The table guest to my right announced that she had found an asparagus so I stabbed around my plate, searching for that as well.
The most difficult part was cutting my chicken. Either I cut and somehow ended up with nothing on my fork once I brought it to my mouth or I cut and realized that the piece was far too large for my mouth. There was a lot of trial and error bites and even more wiping my mouth with my napkin ... or possibly my skirt, who can say?
Sure it was awkward, but being "in the dark" did enhance the flavor of a very simple meal. The powerful taste of garlic was the first thing I noticed when I bit into my chicken. And even though I never saw my mashed potatoes, as soon as I took my first bite, I immediately pictured smooth creamy potatoes with absolutely no lumps.
The most vivid taste was when I found the lone carrot on my plate. I knew it was a carrot because of the shape and texture, but my tastebuds screamed ORANGE when I took my first bite. My carrot had most definitely been glazed or baked in orange juice.
Finally, I finished my meal, put my fork and knife down, and proudly announced, "I'm pretty sure I cleaned my plate."
"Think again," my husband said.
It's hard to be a member of the clean plate club if you can't find all the food on your plate.
The distinctiveness of my tastebuds was even more obvious when we finally took off our blindfolds and were presented with dessert. It took two to three bites of the creme brûlée before I even realized it was chocolate. It was like the reintroduction of sight had dulled my tastebuds. Very strange.
Dining in the dark was a very eye-opening experience. No pun intended.
Have you ever dined in the dark? Is this an experience that you would try?