While the rest of you are fighting the traffic and the crowds of the DNC, I escaped the drama to relax on the rural North Eastern coast of North Carolina at my in-laws house. One of the things I like best about coming out here is my husband's family always have a lot of seasonal produce, especially fruit.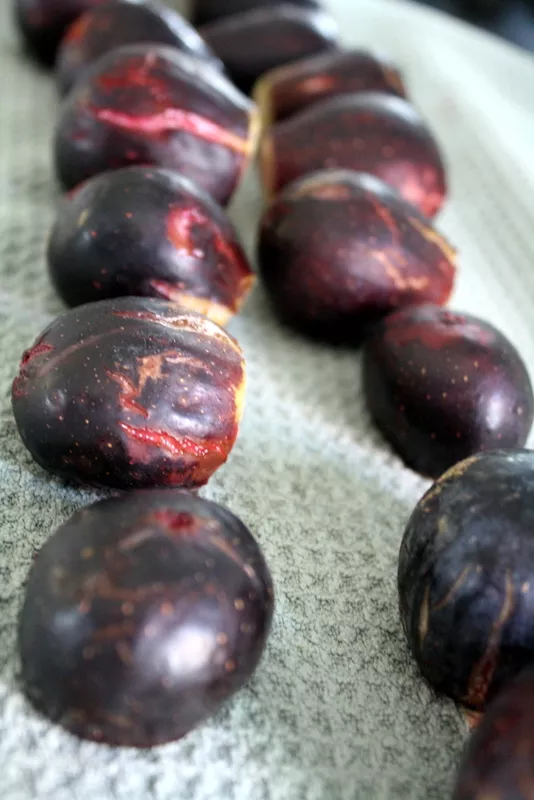 This time of year, figs and pears are abundant. As soon as I arrived, they invited me to taste their huge juicy figs. I cut one open and marveled at the magenta jeweled center. One bite of a fresh fig and the difference between them and grocery-store-bought figs is obvious. These were no different. They were at the peak of their ripeness.
I have big plans to make fig jam later today, but first I wanted to share with them (and you) one of my favorite ways to enjoy fresh figs.
I can't take credit for this recipe. Two years ago, I complained that figs weren't sweet enough to my liking on my own personal blog and a friend and reader reached out to me to tell me her favorite way to enjoy the fruit. I only made one small adaptation to the recipe, choosing to broil the figs to bring out their succulent juices, as opposed to leaving them raw. Other than that, this recipe is completely Claire's.

It would make a lot more sense if I called this recipe Figs du Claire, but Figs à la Claire just has a better ring to it?
Making sense is the least of my worries.
I'm almost ashamed to call this a recipe because the only cooking required is broiling the figs for about three minutes. What this recipe is lacking in complicated instructions, it makes up for with a complex and creative flavor combination.

FIGS À LA CLAIRE (makes 16*)
This dish is less of a "recipe" and more of a throw together and enjoy dish. It combines some really delicious flavors to create a creative appetizer or snack. Most importantly, it uses goat cheese and goat cheese makes everything amazing.
8 fresh ripe figs, cleaned and stems removed
2 ounces goat cheese
1 jalapeño, chopped finely, seeds and membranes removed
1 teaspoons honey
fresh ground pepper
Preheat oven to 500 degrees, on the broil setting. Slice figs in half, point to bottom so there are two symmetrical halves. Place on a baking sheet, cut side up. Broil for three minutes or until the fig juices begin to ooze.
Remove from oven and allow to cool for five minutes.
Top each fig half with a small dollop of goat cheese and a few small pieces of jalapeño. Drizzle lightly with honey.
*If making this for an appetizer, I would plan to make 3-4 bites per guest. This recipe as is would feed 4-5 guests. For a snack, this recipe serves 2 — that's 4 whole figs or 8 bites per person.
This recipe won me over made me a lover of figs. If you're on the fence, definitely give it a try. But be aware that fig season comes and goes in the blink of an eye so get your fresh figs while you can. Fig season won't be around much longer.