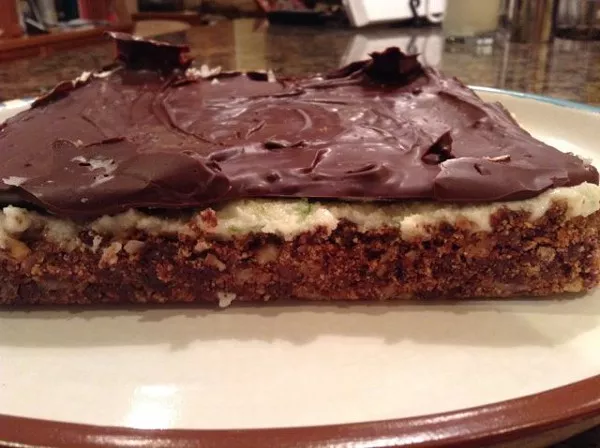 Hi. I'm Scott Greenberg, and I'm obsessed with baking. So much, in fact, that my personal recipe-blogging is now spilling over to Creative Loafing's Eat My Charlotte.
For those of you who don't know what my site's all about (which is probably every single one of you), I make tasty-ass recipes and pair them with equally tasty beats. It's cheaper than wine, way harder to OD on, and much more legal to drive around with. Plus, it just makes sense. You ever try eating in silence? It's boring. Depressing, even. You get the right track playing over the perfect plate, and both the music and the food are gonna taste better. It's a beautiful thing.
This week, I was thinking about something most of you food-obsessives think about on the regular: five-star restaurants. I like going to them just like anyone else - ordering something simple like a chocolate mousse and seeing it come out covered in gold leaf and tiny little marzipan recreations of the Sistine Chapel. But you know what I like even more? Going home, dumping a bunch of crap in a pan, and having something come out that tastes just as good.
And before you say it, no, I don't like making an easy dessert because it makes me feel like a good chef in a Sandra Lee, pick up a couple of cans of pre-made frosting and "you can't taste the difference!" kind of way.
I like doing it because it's a metaphorical smack in the face to Mr. Five-Star. Because I know, in my heart of grease-clogged hearts, that I can get the same reaction from people by melting a bunch of butter and chocolate together that a fancy dessert chef can from spending hours on a Lavender Meyer Lemon Soufflé. Those desserts might get some more ooohs and ahhs from people, but we both know what most people are gonna go for when they stumble into the fridge at 3 a.m. They're gonna go for the Nanaimo bars. Specifically, for some Lime and Espresso Nanaimo Bars. I can be a bit fancy too, y'know.
Here's what you need:
Bottom Layer:
- 1 stick (8 tablespoons) butter
- 1/3 cup cocoa powder
- ¼ cup sugar
- 1 egg
- 1 ¾ cups of graham cracker crumbs (it's about 12 graham crackers, just pulse them in a food processor and you'll be good to go)
- ¾ cup unsweetened shredded coconut (look, if you have sweetened instead, just use it. The recipe has about 800 pounds of sugar in it, it's not like a little coconut's gonna make THAT much of a difference)
- ½ cup chopped walnuts
Icing:
- 2 cups powdered sugar
- 1 stick (8 tablespoons) butter, room temperature
- 3 tablespoons milk
- 1 teaspoon lime zest (about what you'll get from one lime)
Ganache:
- 2 teaspoons espresso powder
- 1 ½ cups chocolate chips
- 3 tablespoons butter
Directions
First, get a big-ass pot and add in the butter, sugar and cocoa. Make sure you sift that cocoa in, you don't want any lumpiness in here. Put it on medium heat and stir together until it's all smooth and lovely.
Add the egg, and whisk it in completely.

Once everything's mixed, add in the granola-y stuff: graham crackers, coconut and walnuts.
Give it a stir, press it into the bottom of a brownie pan (you can use the bottom of a glass tumbler for that), and throw it in the fridge while you make the icing. The colder this stuff is the better, so make sure it's in the icebox as long as possible.
The icing's easy. Take all the icing ingredients, put them in a stand mixer, and pull that nice shiny lever that makes it go. That's it.
Spread it over the first layer, then it's time for the ganache.
This part's just as easy, although it's technically slightly harder because there's a microwave involved. Just try not to stick your head in the damn thing and you'll be fine. I believe in you.
Just take the chocolate chips, butter, and espresso powder, put it in a bowl, and microwave it in 15 second bursts. Stir in between the 15 second intervals, and keep putting it back in until it's all mixed and smooth. You can use a double boiler instead if you want to get all fancy and technical, but the microwave works just fine.
Either way, spread it on top of the icing, stick the whole thing back in your fridge overnight, and you'll be good to go.

For this week's music accompaniment, I'm going with a classic: the legendary Miles Davis, playing One for Daddy-O:
At the end of the day, it doesn't matter if you made your dessert in the back of a one-bedroom apartment or in the kitchen of a million-dollar French hotel. If it tastes good, it tastes good, even if it's basically a pile of melted butter and chocolate. That's what most desserts are, if you think about it. Some of them just look a little fancier.
When Scott Greenberg isn't baking - which is pretty much never - he likes to obsess over music, play Street Fighter and yell at kids to get off of his lawn. You can find more of his recipes at Fresh Beats, Fresh Eats.