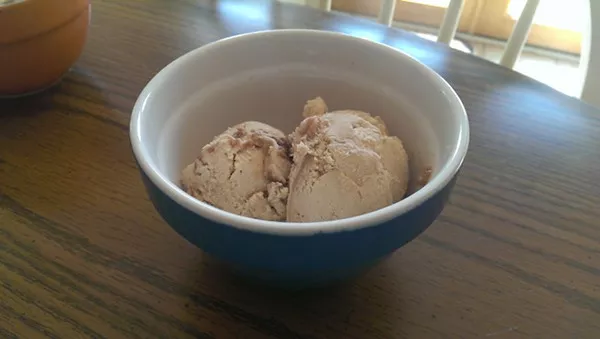 As much as I love coming up with stupid, improbable, "There's no way that would ever work" recipes and having them turn out somewhat decent, I'm lazy. Sometimes (one of those times being now), I just want to take a handful of stuff that tastes good, take another handful of stuff that tastes good, and throw them in a damn bowl so I can have something that, well ... tastes good. You get the idea.
The point is, not everything has to be a molecular-level triumph in the history of the culinary arts. Take apples and peanut butter. There's no thought behind that one, no innovation. You're not going to see it on any Michelin-starred menus anytime soon.
But if I put a plate of that tasty goodness in front of you right now, right this second ... you'd eat it. You'd damn well eat it. Unless you were at one of those Michelin-starred restaurants, then you'd probably look at me weird while I got thrown out.
Regardless, I decided to take that idea and make it into something even more mindless: ice cream. Pretty hard to not like all those things, unless you also hate puppies and smiles or something. But I'd say hating Apples and Peanut Butter Ice Cream is pretty goddamned difficult, too.
Here's what you need:
Ice Cream:
-1 cup creamy peanut butter (and make sure it's not that grainy organic shit. As much as I love it, we're making ice cream, not vegan granola, so make sure you get the fake stuff: Skippy or Jif.)
-2/3 cup sugar
-1/3 cup milk
-2/3 cup half and half
-2 cups heavy cream
-1 1/2 teaspoons vanilla extract
Apple Butter:
- 5 moderately-sized Granny Smith apples (don't freak out if they're not all perfectly sized, it's apple butter, you don't have to be scientific about it)
- 1 cup sugar
- 1 cup brown sugar
- 1 tablespoon cinnamon
- ½ teaspoon nutmeg
- ¼ teaspoon ground cloves
- ¼ teaspoon salt
- 1 tablespoon vanilla extract
Directions:
First we're going to do the apple butter, since it needs to stay in that slow cooker for a good long time. Also you'll need a slow cooker. Don't worry, they're dirt-cheap.
Peel and core your apples, then slice them up into roughly inch-sized chunks. Like I said up there, you don't have to be exact with this stuff, just make them around that size.
Get yourself a medium-sized bowl, stick the rest of the ingredients in it, and stir.
Put everything in your slow cooker and stir it up so it's reasonably mixed together. It's all going to melt into one glorious buttery mixture anyway, so don't worry about getting it perfectly mixed. Just wiggle a big spoon in its general direction for a couple of seconds and you'll be good.
Turn your slow cooker to low and put a lid on it, making sure to give it a stir occasionally. Keep doing that for the next 10 hours (this would be a good time to scroll on down and make your ice cream base ... hint hint).
After 10 hours, take the lid off your cooker, stir in the vanilla, and let it cook for another two hours.
Now your apples should be pretty much completely broken down and smelling delicious. If you have an immersion blender (and you should), use it on those apples until they're nice and smooth. If you don't, puree the apples in SMALL batches in a food processor or blender. Don't be an idiot and put the whole batch in at once, unless you enjoy having third-degree burns all over your face. 
After that, just put your apple butter in a container or two and place in the fridge to chill.
Ice cream time.
Start by putting the peanut butter and sugar in a bowl and using a stand mixer to whisk it until combined. Or use a hand whisk and enjoy watching your forearms slowly disintegrate. Your choice, people.
Add the milk and half and half and whisk that in, too. Two minutes on low should get it nice and creamy.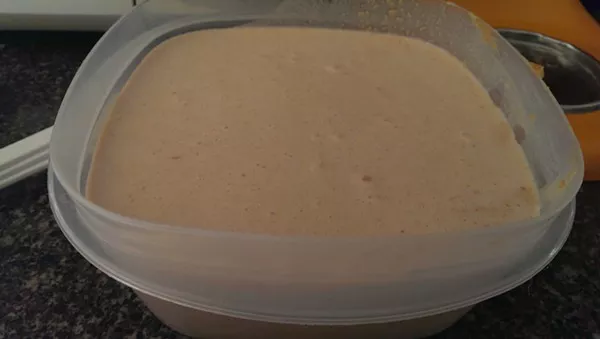 Whisk in the vanilla and heavy cream, then cover and stick in the fridge for 3 to 4 hours.
Once the ice cream base is chilled, get out your ice cream maker (if you don't have one and you got this far through a damn ice cream recipe ... I can't help you) and follow the machine's instructions. You know the part in the manual that says "how to make ice cream"? Do that.
Once your ice cream's done churning, add about ¼ cup of apple butter in and swirl it around with a spoon or a spatula. I wasn't too exact with that ¼ cup, and you don't really have to be either. If it looks like enough; it's enough. If you want more, add more. Just make sure you don't mix it in completely, you still want to be able to see that swirl.
After that, all that's left is to freeze your ice cream for 2 more hours, and it's ready to eat.
Make sure you swirl in some beats along with that apple butter. This week we've got Wilco with Muzzle of Bees:


OK, maybe this is a little more complicated than a plate of apples and peanut butter. Yes, you do have to mix some things, and freeze and cook and add spices and all that. But the real recipe behind it all, the heart of it, is simple as it gets. On paper, a 5-year-old could do it. In the kitchen ... well, that might take just a bit longer. But either way, it pays to stop eggheading your recipes once in a while and do something that just makes sense. Feel free to go ahead and apply that knowledge to other life stuff, too.
I'll see you next time.
When Scott Greenberg isn't baking - which is pretty much never - he likes to obsess over music, play Street Fighter and yell at kids to get off of his lawn. You can find more of his recipes at Fresh Beats, Fresh Eats.