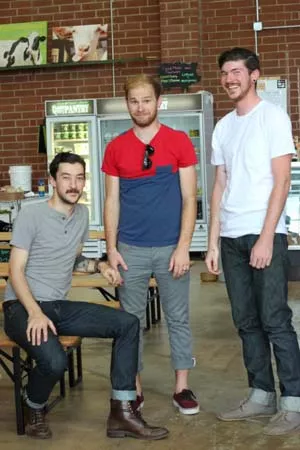 Left to Right: Tanner Morita, Chandler Wrenn, John Michael Cord
What do you get when you combine a few 20-somethings, a loaf of bread, a couple dozen eggs and a tilt skillet? Atherton Breakfast Club, that's what.
Atherton Breakfast Club was founded by friends Tanner Morita, barista at Not Just Coffee, John Michael Cord, barista at Central Coffee and Chandler Wrenn, Charlotte native and coffee lover (duh!) who made good on one simple idea.
"We should have breakfast on Wednesdays," said Wrenn of a conversation he had with his friends.
What began with just a few friends has mushroomed into a community gathering upwards of 30 individuals in just six short weeks.
"It's awesome to see how it has spread and become a thing," says Morita. "It all happened very organically."
Every Wednesday, the denim-clad lads get together inside the Atherton Mill & Market to make breakfast - anything from omelets to french toast to a straight-up cereal bar. Don't let the mustachioed facade of this handsome crew lead you to believe that the best meal of the day is exclusively for hipsters. They want to include all of Charlotte.
"We love people and we love Charlotte," says Wrenn.
The morning begins casually every Wednesday at 10 a.m. inside the Atherton Market and disperses around the noon hour. Friends float in and out and passersby are often pleasantly gifted with a free breakfast plate. Vendors from the market drop in with donated goodies. On this occasion, Bill Averbach of Pickleville Pickles brought the group a container of pico de gallo. Last week, the Atherton Food Hub donated a bucket of local strawberries. Attendees can bring something if they so choose, but it's not required. The first rule of Atherton Breakfast Club is there are no rules.
For Wrenn, a Charlotte native, this is all part of a new era of Charlotteans looking to bring the city together. Cord views it similarly, as community outreach and a reflection of the people who call the Queen City home.
If you're free next Wednesday, come eat breakfast with no strings attached. Just be sure to hashtag your Instagram photos #athertonbreakfastclub.