There's nothing like walking into a cool, dimly lit bar on a bright summer morning and fondling some melons. That's no euphemism. Saturday mornings, The Evening Muse and its diurnal incarnation The Daily Press are now hosting NoDa's own farmers market.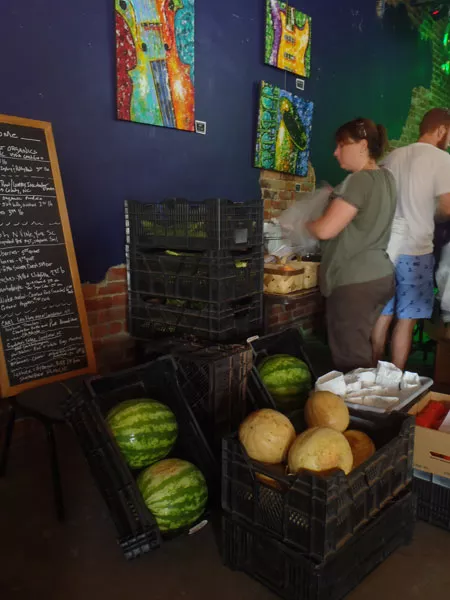 On its first day, the collaborative enterprise with Atherton Food Hub consists of a pair of tables and stacked crates in a back corner of the bar. This unassuming platform for local produce displays a good selection of summer favorites, from blackberries to zucchinis. Leaning against the wall, a handwritten chalkboard boasts the names of seven participating farms. According to Atherton Food Hub director Pat Farrell, all products sold here come from a 100-mile radius.
Even in its first hour of operation, the market corner saw a small but steady stream of customers line up to buy produce. This mini-rendition of Atherton Market fills a need in the neighborhood not only for a source of local food, but also as a community gathering point.
Anticipating an influx of new residents from a burst of nearby apartment construction, Evening Muse owner Joe Kuhlmann expects the endeavor to grow. "It's a Field of Dreams thing," he says. "If you build it…" Future plans include sales of meats and cheeses, as well as offering customers the option of advance ordering via email.
The NoDa market is open every Saturday from 10 a.m. to 2 p.m. at 3227 N. Davidson St. Credit and debit cards are accepted, children are welcome, and the Daily Press serves up hot and cold coffee. Customers interested in being on the market's email list can contact Farrell via email (athertonfoodhub@gmail.com).