For foodies like me, farm dinners are the epitome of eating local. Charlotte is blessed with a winning combination of dedicated farmers connected with passionate, talented chefs who like to play with their food. My only problem with farm dinners is that I usually hear about them after they're over.

So here's my favor to you: Bosky Acres goat farm in Waxhaw is having a dinner Saturday, Nov. 8, at nearby Pecan Lane Farm. The event is a fundraiser to complete a cheese cave for Bosky Acres, but for you, it's also an opportunity to feel righteous about enjoying delectable dishes from half a dozen of those passionate, talented chefs.
Whoa, let's back up here … a cave? What does a cave have to do with cheese?
"It's a traditional aging room," says Michele Lamb, who's been selling her fresh chèvre and feta at the Matthews farmers market since 2007 — after a little arm-twisting from chef Joseph Bonaparte, then of the Art Institute of Charlotte, today at Horry-Georgetown Technical College in Myrtle Beach.
"I was selling soap here at the market," Lamb recalls, "and he kept asking me, 'How come you're not making cheese?'" He finally took home her goats' milk to prove he could easily make cheese in his own kitchen. "I credit him for getting me started and making me believe I could do it."
Today, Lamb's aging cave, a custom-made 8' x 10' concrete box, lies partially buried in a hillside on the farm. "It's about 80-percent done," she says. Final touches include adding an entrance room with a washing station, running power and water lines, and finishing the burial. When completed, the cave's controlled environment of 55 degrees and 90 percent humidity will encourage the growth of beneficial bacteria that change milk proteins into flavorful cheese, and allow Bosky Acres to expand its offerings to mold-ripened cheeses and aged Gouda.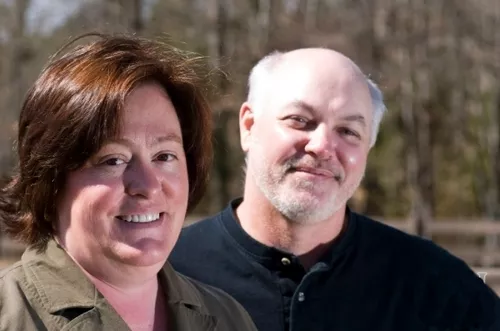 Courtesy of Bosky Acres
Bosky Acres farm owners Michele and Matthew Lamb
After a delay in construction due to health issues, Lamb credits Bonaparte with the idea of a dinner to raise the last $5,000 for the project. The two have recruited five local chefs familiar with Bosky Acres' cheeses. "Paul [Verica of
Heritage
] and Ashley [Boyd of
300 East
] both use my products all the time," Lamb says. They will be joined by Matthew Krenz of
The Asbury
and Terra Ciotta and Jeremy Bevins, culinary instructors at the Art Institute of Charlotte.
Bonaparte will create the passed hors d'œuvres greeting diners as they enter the charming horse barn at Pecan Lane Farm. "We're going to have a couple of goats to pet," Lamb says, and information about the farm and cave project. "Everyone can arrive and visit, have a little bite, and we'll sit down around 4:30."
Five courses will follow, with each chef highlighting Bosky Acres' cheese in their own signature styles. "With the chefs we have on board, it's just going to be an amazing evening," says Lamb.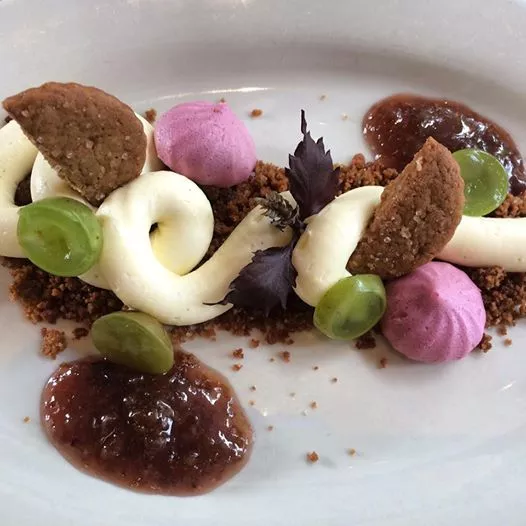 Courtesy of Ashley Boyd
Piped cheesecake dessert from 300 East's Ashley Boyd
Anticipating the completion of the cave with the proceeds from the dinner, the cheesemaker looks forward to learning more about her craft. "There's a whole different art and science to aging cheese," she says. "This is going to take it to the next level."
Tickets are $125 and available at
here
.