A couple of days ago, Davidson Community Theatre announced that they've added an extra matinee performance on Sunday, March 11, to their sold-out run of Children of a Lesser God. But it already may be too late to take advantage. Tickets are that hot, and the production at the Armour Street Theatre is that good.
You may already be familiar with the Mark Medoff drama about a new teacher, James Leeds, who comes to a school for the deaf, where he is immediately assigned mission impossible: get through to Sarah Norman, a former deaf student who works there as a janitor, and defiantly refuses to learn how to speak. Mr. Leeds falls in love with Sarah, marries her, but that spectacular progress doesn't break down her resistance to speaking — or change her conviction that deaf people are best equipped to teach the deaf.
Two unique qualities make this production exemplary: the fluency of both lead actors, Michael Corrigan and Rachel Nicol, with American Sign Language, and the accessibility of the show for both hearing and deaf audiences. Director Sam Parker, the child of deaf parents and fluent in ASL, has provided two "Shadow Interpreters" for those occasions during the action when sign language isn't being used — so the deaf will continue to get every word.
Nicol, deaf since birth, brings an indispensable authenticity to Sarah, never softening her dogged dogma but gleaming like the sun when a rare smile shines forth. Corrigan is simply amazing, making us realize that he is actually the master of two foreign languages. While he's communicating with his hands in ASL, he's speaking with that offhand carelessness that gradually becomes second-nature to hearing signers when all that's important about their speech to deaf listeners is the movement of their lips.
I wouldn't doubt that a very fine and studious actor could simulate this special nonchalance, but Corrigan has it in his hip pocket — and it frees him to hold onto all the fine comic timing and mannerisms he had when he was regularly performing on Charlotte stages years ago. This James is a funny guy, and his attempts to get through to Sarah via quips and surprises yield a very special chemistry as Sarah strives vainly to resist him.
There's also a very special chemistry in the intimate Armour Street audience because of the hearing-deaf mix. Few, if any, of the deaf in last Thursday night's audience shared Sarah's aversion to speaking or congregating with hearing people — and a few could be seen performing their ASL wonders, conversing across impossible spans of space without a sound. The play and the deaf folk flocking to it both help push a reset button on the whole concept of handicapped.
Supporting players in the cast are all solid. Especially impressive were Caleb Hardwick and Brittany Gregg, who brought an obvious familiarity with deaf culture to their roles as James's speech students, Orin and Lydia. Jacqueline Dufour was more than sufficiently irritating as Edna Klein, a well-meaning public advocate on behalf of Orin's effort to hire more instructors at the school — including himself. Bringing in that one outsider to the story was especially provocative when she first met Sarah. She has sense enough not to refer to James's wife as "deaf and dumb," but she still sticks her foot in it — knee-deep, to hear the reaction in the house — when she labels her mute.
Of course, I cannot say how far into the crowd deaf audience members were able to read Dufour's lips. So it was handy to have Lyndi Patton-Gura signing for Dufour when she detonated her bomb, with Chance J. Sutton doing the honors at key points during the evening for the male actors. Clocking in at two-and-a-half hours plus intermission, it's a long evening, but ticket sales have already judged Lesser God to be more than worth your time.
Lesser God was the second show in consecutive weeks to draw me up the highway to Davidson. That prestigious liberal arts college up yonder did a dry version of Mary Zimmerman's Metamorphoses, the retelling of eight classical Ovid myths that won our Show of the Year award honors for 2009 in a memorable CAST production that featured a sloshing waterworld created especially for the occasion.
It was a brave venture for Davidson director Joe Gardner to do it dry, and I'm sure it worked fairly handsomely for people who hadn't seen the Broadway or CAST productions. Gardner co-designed the set with Josh Peklo and utilized a thrust configuration akin to the Broadway and CAST versions that nestled quite nicely into Barber Theatre, Davidson College's mid-sized venue. But it was the 12-person ensemble who captured the playful irony of Zimmerman's concept, vindicating the preposterous notion of casting undergrads as the great gods of mythology and their hapless prey. I just wish the budgetary spigots had been opened.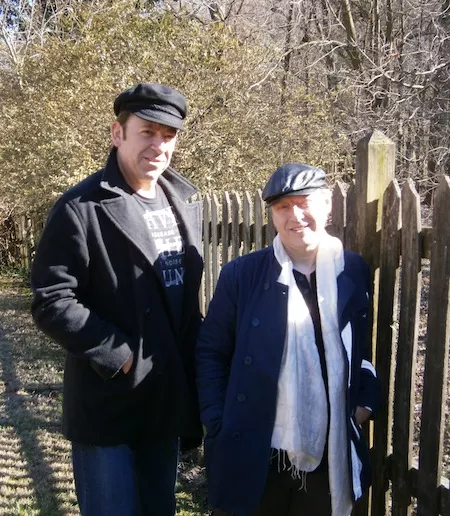 If you think Davidson is too far to roam — or you find that Lesser God tickets are a vanished dream — head up I-77 to Exit 25 and find some tasty fare at the Warehouse Performing Arts Center in Cornelius. Two of Charlotte's best, Hank West and Michael Harris (pictured above), are starring in Stones in His Pockets and divvying up all 15 roles between them. Having seen the original London production — and, up Asheville way, an NC Stage Company version in 2006 — I can promise you plenty of comedy bits, a few sprinkles of pathos, and thick Irish accents.
Smack on St. Paddy's Day, if you play it right. Sue and I are going tonight.