Beck, Ghost of a Saber Tooth Tiger
Uptown Amphitheatre
July 11, 2014
Considering this was the first time in 18 years Beck had performed in Charlotte — and that he's been off the road completely for the last handful — it should be no surprise that I hadn't seen the singer live before last Friday night. (Check that one off the list.)
I wasn't quite sure what to expect. I didn't read any recent reviews and, given his latest album's folk-rock sobriety and a spinal injury that kept him off the road for years, I was prepared for something a bit low key. I figured I'd see the 44-year-old taking it easy with an acoustic guitar and focusing on his newest release, this year's stunning Morning Phase.
But all preconceived notions were thrown out from the first notes of "Devil's Haircut." Beck sang with a bounce in his step, shaked and shimmied his way around the stage and generally looked like he was having a great time without hesitation.
The setlist only featured four songs from
Phase
, as Beck instead saturated his set with plenty of variety and hits including "Loser," "New Pollution," set-closer "E-Pro" and encore finisher, "Where It's At." Wearing a wide-brimmed fedora, Beck conjured up the spirit of Michael Jackson for a quick take on "Billie Jean."
Known for his usually eclectic musical offerings, the concert was a fine display of the broad range of Beck's musical talents. From rock to pop, funk to hip-hop, his music incorporates a bit of everything for a sonic party that kicked the weekend off right. Going into the night with, undeservedly, low expectations may have been a good thing as Beck did everything right to shatter them in the first few songs and carry along the crowd for two hours.
If the crowd's enthusiasm had anything to say for it, we might see him again soon, as Beck told the crowd, "Let's do this again next year!"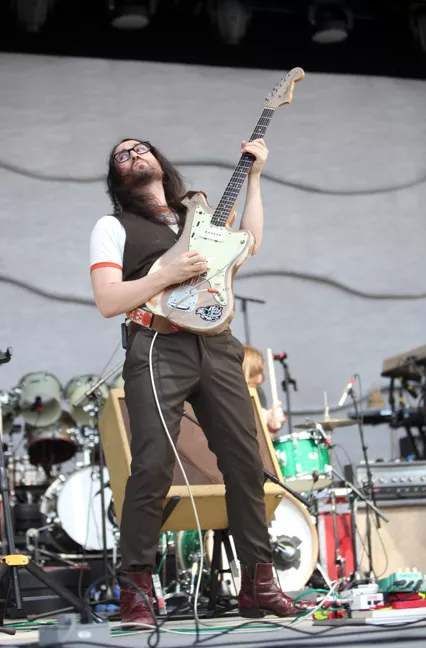 Ghost of a Saber Tooth Tiger
The night started off on a psychedelic note with the Sean Lennon-fronted Ghost of a Saber Tooth Tiger. Formerly an acoustic duo with Lennon's girlfriend, Charlotte Kemp Muhl, the band's 30-minute set focused on its latest (electric) full-band album,
Midnight Sun
. The plugged-in sound that GOASTT offers these days is much fuller and forceful than the duo, without overpowering Lennon and Muhl's soft vocal tones.
Beck Setlist
Devil's Haircut
Black Tambourine
Loser
One Foot in the Grave
The New Pollution
Soul of a Man
I Think I'm in Love / I Feel Love
The Golden Age
Lost Cause
Blue Moon
Modern Guilt
Sissyneck / Billie Jean
Qué Onda Güero
Hotwax
Paper Tiger
Heart Is a Drum
Say Goodbye
Waking Light
E-Pro
Encore
Hell Yes - Ghettochip Malfuntion remix
Debra
Where It's At