Editor's Note: Our beer writer is embarking on a self-imposed Charlotte brewery tour, visiting one a month. Here's his second report. In January, he checked out Olde Mecklenburg Brewery.
A funny thing happened after my February visit to Sycamore Brewing: I lost my notebook with my writeup. I then became engrossed in sketching out an upcoming article, so I'm just now getting back over there. As an act of contrition, I will now insert this carnivorous earwig into my brain. Or, better yet, I'll double up and turn in two brewery reports this month to get back on schedule.
Let's cut right to it: there's beer to be found at Sycamore (2161 Hawkins St.). On this visit, I'm counting 12 different in-house beers on tap, plus three wine varietals. That's down from the 16 beers available during my last visit. Of these 12, four are brand-new to my eyes. Obviously, rotation is the word of the day here. Alcohol content runs manageable too, which seems to serve the ping-pong-playing, pitcher-drinking crowd just fine.
Beer styles on offer skew slightly British, but not exclusively so; Germanic wheats and Belgian strongs feel at home here. I'm fighting the urge to order the hits, like Peak Farm Double Pale or Southerly Oat Pale. No, it's a Deep Cuts kind of night, and I'm opting for what I might otherwise skip in order to expand my own horizons.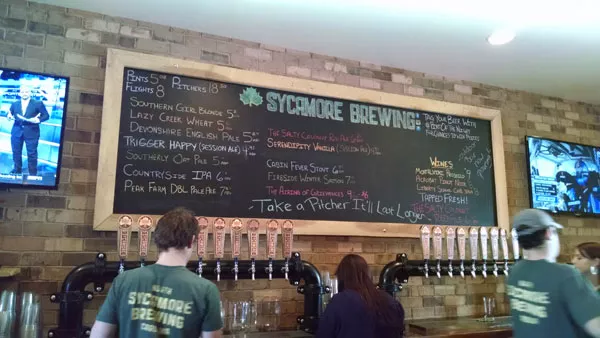 'Take a pitcher it'll last longer.'