With such a unique name and such a spiffy new building, The Peculiar Rabbit is sure to stir up a lot of interest in the Plaza Midwood neighborhood. The restaurant/bar just opened on Monday, but I got the chance to have a sneak preview last week while the owner and staff were still putting the finishing touches on the three-story craftsman style building.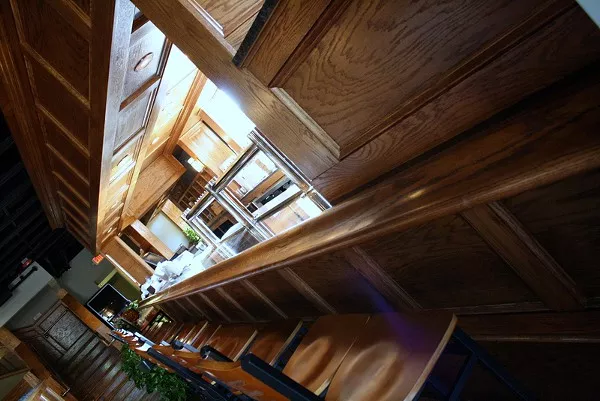 The downstairs bar area seats 200 people and serves up 24 beers on tap.

The restaurant features 24 beers on tap at each one of their three bars. Their main bar is on the first level, but a dumbwaiter helps lift all their beers on tap to the second and third floors.


Prices on their menu range from $10-$30 and Executive Chef Geoff Bragg covers the gamut from Asian Fusion to New American.
Here are some of their menu highlights:
Oxtail Poutine
Slow braised Ox tail with oxtail gravy, finished with a farmstead cheese and fresh cilantro, with hand cut fries (made in house)
Cider Braised Pork Belly
Pork belly rubbed with juniper, bay leaf, pepper corn, and fresh thyme, with five spice cider reduction, maple brulee brussel sprouts, and celery root puree
Coffee rubbed Baby Back Ribs
Bourbon barbecue sauce, corn pudding, garnished with with crispy tobacco onions (shaved crispy onions)
In describing the menu, Chef Bragg says, "Our concept of a gastropub is English dishes with Southern ingredients." The gastropub also features classic English dishes like fish and chips and shepherd's pie.
One of the dishes that best embodies this is the grilled buttermilk biscuits with OMB copper rarebit sauce and tomato confit with strips of bacon glazed with maple syrup.
What I'm most looking forward to is the Car Bomb, a dessert with three kinds of chocolate: chocolate pate, chocolate shortbread, and Guinness chocolate mousse with a malted Bailey's cream froth.
Holy mackerel, Batman. That sounds amazing.

The most impressive feature of Peculiar Rabbit is its third-floor rooftop patio. The restaurant's location on the corner of Pecan and Central avenue has a birds-eye view of the Uptown Charlotte skyline.
Behind the Peculiar Rabbit will be a nightclub/lounge by the same owner, slated to open in three weeks, and in 30 days the neighborhood will get its very first sake bar. Owner Rob Nixon, who also owns Jackelope Jack's, explains his intent in offering a one-stop location for nightlife: "People can go out to one of the Plaza Midwood restaurants and if they want to go out afterward, whether it's for dancing or for drinks, they can get that right here. They don't have to go Uptown. They can stay right in the neighborhood."
Peculiar Rabbit is located at 1212 Pecan Ave. Charlotte, NC.