You know me: I like healthy foods. But sometimes it's fun to make a sweet seasonal treat. After all, life without the enjoyment of decadent foods is just not living.
These pumpkin butterscotch muffins blur the lines a bit between healthy and not-so-healthy.
The muffins start with a chewy pumpkin dough with very little fat, but when you take a bite, you'll grin at the sweet butterscotch chips that will remind you of something amazing your mom used to make (if you're mom was anything like mine).
My mom used to make this incredible concoction called seven layer bars, which consisted of butterscotch chips, chocolate, chips, coconut, butter, sugar, and flour. That's about it. It was absolutely heavenly and how I started my love of butterscotch chips. I'm salivating just think about it.
Anyway, back to my muffins ...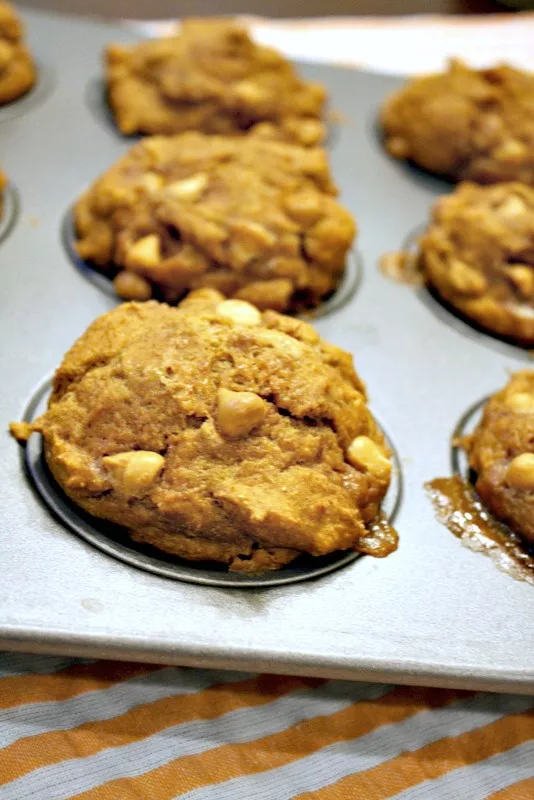 Chewy pumpkin muffins with sweet bites of butterscotch
Jim Gaffigan said it best when he said:
No, you may not have cake for breakfast! You can have fried cake ... with syrup! And what's up with muffins? It's just a bald cupcake!
So when you see this recipe and ask yourself, why go to the trouble of taking out almost all the fat in this recipe, only to add tons of super sweet butterscotch chips (which is definitely not a breakfast food), the answer is simple.
I'm making this recipe a little more less bad-for-you so I can, um, I mean, YOU can justify eating these bald cupcakes for breakfast.
You're welcome.

PUMPKIN BUTTERSCOTCH MUFFINS (makes 12 muffins)
2 cups whole wheat pastry flour
1 Tablespoon baking powder
1/2 teaspoon baking soda
1/4 cup sugar
1/4 teaspoon salt
1 Tablespoon pumpkin pie spice
1 cup canned pumpkin
1/2 cup fat free Greek yogurt
2 Tablespoons butter, melted
1 cup + 1/4 cup butterscotch chips
12 muffin papers or non-stick spray
Preheat oven to 350 degrees. In a large bowl, mix dry ingredients together: flour, baking powder and soda, salt, and pumpkin pie spice. Add wet ingredients to the bowl: pumpkin, yogurt, and butter. Stir well to combine. Add 1 cup of butterscotch chips and mix well.
Place muffin papers in a muffin tin or if not using papers, spray each muffin cup with non-stick spray. Use a 1/4 cup measuring cup to spoon muffin dough in each cup. Place 3-4 chips on top of each muffin from the remaining 1/4 cup.
Bake for 30 minute or until an inserted knife in the center of a muffin comes out clean.
Kelly Davis is a blogger, freelance writer, food enthusiast, and native North Carolinian. When she's not training for a race or cooking something delicious in the kitchen, she's writing, reading, snuggling her dachshund, or plotting her next project. You can keep up with Kelly's antics and recipes on her blog, Foodie Fresh.