Every article I've read on farmers market shopping stresses the importance of talking to the farmer behind the food. It's a great idea, but a little hard to put into practice when you're juggling money, potatoes and a tote bag, while the next customer looms over your shoulder to see if you snagged the last dozen eggs.

This weekend brings an opportunity to step away from the market table and get some real face time with farmers. For the seventh time, Know Your Farms runs its two-day tour, offering access to 13 nearby farm sites. For $25 a carload (advance price), visitors can see where and how growers raise everything from alpacas to zucchini.

This volunteer-run group has organized Charlotte-area farm tours since 2008, paralleling the efforts of the Carolina Farm Stewardship Association in the eastern part of the state, and the Appalachian Sustainable Agriculture Project to the west. For the first time this year, Know Your Farms has split its tour into two, offering a spring version in May and this month's fall edition. "Last year, we got a lot of people saying they didn't have time to talk to the farmers," says tour coordinator Wesley Shi. "That's why we shrank the tour."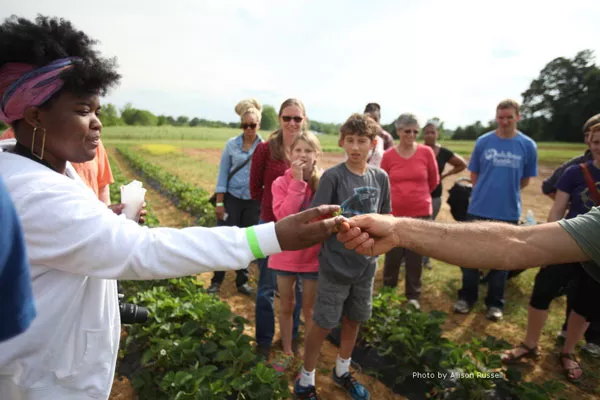 Not only are the farms now divided into two seasons, but they are also grouped geographically, clustered this weekend to the west and northwest side of town. Instead of spending two days zooming among 29 destinations, guests can enjoy a more leisurely trajectory of six stops on Saturday and seven on Sunday. Without a set route, visitors choose which farms they wish to see, and in which order. "What I suggest is not going with the goal of seeing all the farms," says Shi, "but seeing all the farms that you're interested in."

The tour brochure assists by listing special-interest categories like vegetarian and family-friendly sites. Among the latter, kids can pet alpacas, paint horseshoes and take pictures with goats — all of which give an idea of the breadth of agriculture included. We're not just talking about fields of pumpkins and broccoli. Ducks, honeybees and ostriches will also show off their own contributions to our local food scene.

Of course, you can do more than feed the ducks and take pictures. The farms will be selling their products during the tour. "Bring your coolers, bring your ice packs," advises Shi. In addition to meats and veggies, you can shop for eggs, goats' milk soap and even cold-weather clothing knit from toasty alpaca fiber. This last may be a tempting buy, as the tour runs regardless of weather. Shi also advises guests to wear closed-toe footwear, as they will be asked to step into a vinegar solution to discourage the spread of disease from farm to farm.

Even with the separation into spring and fall events, Shi says the tour is on track to repeat last year's numbers. Proceeds from the event are plowed back into the organization. So far the tours have just broken even, but there are hopes for future expansion. "We're hoping to provide educational opportunities like camps," says Shi, "to allow us to make more of an impact."