Let me re-introduce you to ginger. This member of the Pumpkin Spice brigade, known for making cookies snappy and dressings "Asian," is about to make its annual debut in our local markets. Available for just a few weeks, the fresh version looks nothing like the dead roots in grocery store aisles, and is worth getting excited about.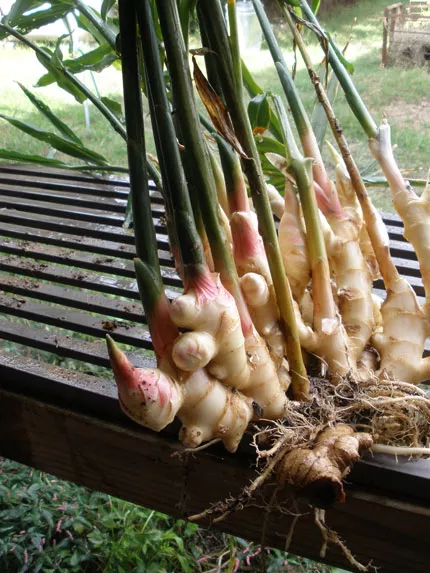 Courtesy Mary Roberts at Windcrest Farm
This week, both Windcrest and Way of Life farms will bring to markets their first harvests of fresh baby ginger. Windcrest's will be available at Atherton Market's Food Hub on Thursday, and on Saturday at the Union and Matthews farmers markets, while Way of Life will be at Saturday's Regional Farmers Market on Yorkmont Road.

This is the fourth year Mary Roberts will be bringing fresh ginger from Windcrest Farm to local markets. Each fall she pulls the rhizomes from the ground as "baby ginger," before they form the familiar papery brown rind seen at the grocery store. The harvest is a bit of a holiday on the farm, and Roberts offers a "Talk and Tour" on Oct. 25 to share the experience. "There's nothing like smelling [ginger] when it comes right out of the ground," she says. "It's literally intoxicating."

Unlike the dead-looking roots you may be familiar with, these cream-colored rhizomes with pink highlights come to you with their sturdy green stalks and foliage intact. "When we first brought it to market, people saw it and didn't know what it was," Roberts says. With a little bit of education, it didn't take long for customers to catch on. "The next year, we sold out in two and a half weeks." Since then, she has more than doubled her production.

According to Windcrest's website, baby ginger boasts a subtler flavor and milder spiciness than the mature root, and doesn't require peeling. With a texture comparable to that of a juicy potato, the fresh root is generally grated for use in both sweet and savory applications. Many home cooks freeze it, to make grating easier, and also to keep it for up to a year. Roberts also dries the fragrant leaves for use in flavoring soups and adding to her proprietary tea mixes.

This past week, she started taking orders from area chefs and other customers. While she brings a little extra to each market, "We don't really pull more … than what's been sold. We really want you to experience it within 24 hours of it coming out of the ground."

Even if you're not into snappy cookies and Asian-themed dressings, ginger's subtle sweet-and-spicy flavor blends well with our local cuisine. In his "modern southern" menu at The Asbury, chef Chris Coleman is using ginger in a spiced ricotta served on an ember-roasted pumpkin salad. He looks forward to expanding its role as the harvest comes in. "We'll be playing around with it in desserts and daily specials," he says.

You can bet he won't be the only one in town, and I expect to see local chefs snapping up the exotic roots at the farmers markets these next few weeks. I strongly suggest you join them, and get re-acquainted with a ginger you never knew.