When the Art Institute of Charlotte hosts a Locally Twisted Dinner on Dec. 4, beef-tongue ravioli will not be the most unusual aspect of the evening. That's because, unlike most foodie fundraisers, this dinner does not boast a team of well-known local chefs. Instead, everything about the event — from original recipes and hand-crafted drinks, to the logo and restaurant décor — comes from the efforts of five students enrolled in the culinary program's Senior Practicum.
Diverging from typical cooking courses where chef instructors determine menus and hand out recipes, the practicum hands the reins to students about to enter the culinary workforce. "We have a chef instructor, but pretty much all the ideas and concepts have come from the students," says senior Kristen Beasley, who spoke to me as the event's marketing manager. "Instead of class lectures, we have meetings about how to [run] the restaurant."
That chef instructor is Terra Ciotta (also this writer's partner), who steers students through the 11-week course. "The idea is to have them take everything that they've learned while they're here and synthesize it," says Ciotta."They do all of the management work and I'm there to guide and answer questions."
The team of five students has stepped into key roles for the pop-up restaurant, from bar manager to assistant kitchen manager. As marketing manager, Beasley has been in charge of spreading the word to potential customers. "I've made the flyers and logo," she says, "sent out emails, and made a Facebook page" for the event.
Preparations for the dinner started over a month ago, when the school purchased a whole hog from Wild Turkey Farms in China Grove, and half a cow from Krenz Ranch in Marshville. Along with the carcasses came lessons in how to transform an entire animal into chops, steaks and sausages.
The base concept is economics — by doing their own butchery, chefs can save dollars per pound. Additional savings come from turning under-utilized cuts such as tongues, hearts and livers into creative courses alongside more familiar sirloins and burgers.

In this one lesson, the students not only met the farmers, but they also learned strategies to offer more expensive local meats while still managing food costs. "I think local's important," explains Ciotta. "It's not a fad … and it's becoming more and more important to the customer base."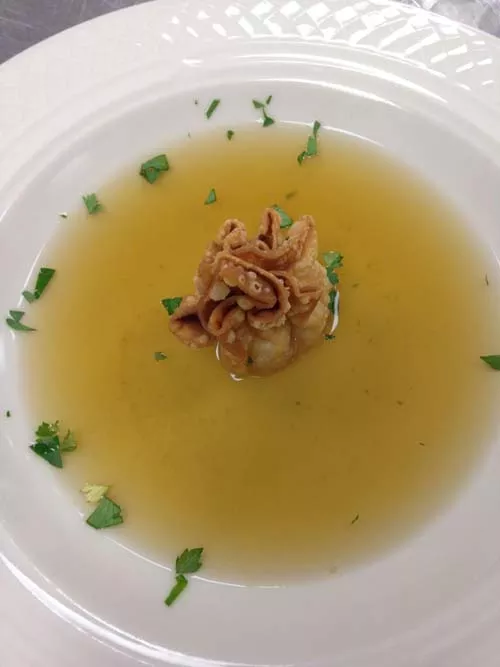 Terra Ciotta
Infused herb broth with chicken liver mousse dumpling — just one of the dishes to be served at the Locally Twisted Dinner
Aside from giving graduating students hands-on experience with budgeting and connecting with suppliers, the dinner serves yet another purpose. All the proceeds from the $100 tickets go into the culinary program's scholarship fund, passing the benefits on to the next generation of students.
As she looks past her own graduation, Beasley says she's interested in catering, which is why she chose the marketing side of this project. When I ask her what she's most looking forward to on Dec. 4, she says, "Just learning how to manage other people. I really want to learn how to be a boss."
When I ask her what she's most nervous about, she chuckles and says, "Pretty much the same thing."
To attend this event, visit the Facebook page for more information, or call 704-357-5900 to make reservations.