Charles Wadsworth, Joseph Flummerfelt, and Emmanuel Villaume no longer wield the batons - or the reins - at Spoleto Festival USA. These have been passed along to Geoff Nuttall, piloting the chamber music, Joe Miller, leading the Westminster Choir, and John Kennedy ruling the Spoleto Festival Orchestra.
You can hear the difference these younger musicians make, for there is more contemporary music, opera, and chamber music being played than ever before. As a result, the overall festival is now more consonant with the jazz and dance sections of the programming - ever watchful for new advances, ensembles, and stars.
Suddenly, it's theater that seems to be the most staid art form in this year's programming. But there's still novelty aplenty. This year's report comes in three parts that concentrate on theater, dance, and opera.
Theater
My Cousin Rachel - Dublin-based Gate Theatre has become Spoleto's go-to foreign theater company. Most of their work here has veered toward comedy - in the Oscar Wilde, Jane Austen, or Noël Coward vein. The closest precedent to this new adaptation of Daphne Du Maurier's fogbound 1951 suspense novel was the 2007 production of Somerset Maugham's The Constant Wife, a piece that packed a topical, satirical wallop.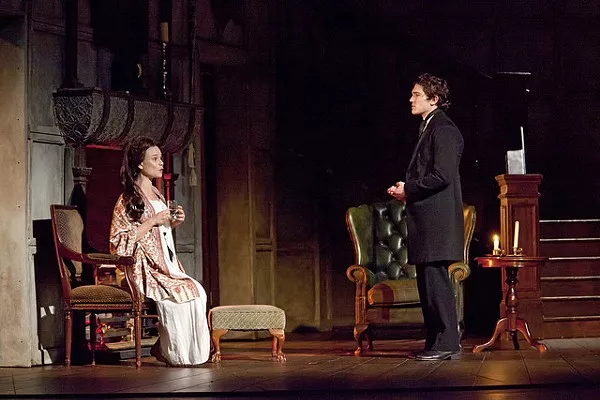 Julia Lynn Photography
Gate Theatre's My Cousin Rachel
As soon as we see Du Maurier's protagonist and the dimly lit Dock Street stage - Francis O'Connor's set design is more like a hunting lodge than a drawing room - we grasp that we're in a different world. Philip, the young heir to the Ashley estate, is cut in the craggy mold of Heathcliff and
Wuthering Heights
in Fra Fee's portrayal, a rock of physical strength fatally compromised by his mental volatility.
Throughout the evening, Philip shuttles from one extreme to another about his cousin Rachel's marital relationship with his dead guardian, Ambrose Ashley. At times, he is sure that Rachel conspired to murder Ambrose and seize control of his fortune. At others, he is wildly ashamed of his suspicions - and wildly in love with Rachel.
Passion, immaturity, and the Ashley family's susceptibility to mental illness are all brewed into Fee's rashness, but Hannah Yelland gives him - and us - ample reasons to feel ambivalent about Rachel. Her posture is perfect, she dresses impeccably, yet there is an exotic aroma to her Italian accent and a glint of danger in her Gioconda smile. Ostensibly penniless, she climbs and descends the wide Ashley staircase like a ruling queen. Can this be Mrs. Danvers from Du Maurier's Rebecca - plus beauty? Yelland radiates that kind of superiority just serving tea.
More starchy and rational, solicitor Nicholas Kendall is the executor of the Ashley estate until Philip reaches the age of 25 in a few months. His advice to the young heir is somewhat tainted by his expectation that his daughter Louise will wed his wealthy client. Stephen Brennan fills the cautious lawyer out with a thin avuncular layer, while Rachel Gleeson as Louise nearly broke my heart - warm, pretty, smart, candid, and clearly incapable of mystery or guile.
These marvelous central characters are embellished with a couple of servants who heighten the genteel ambiance and an old Italian friend of Rachel's, Guido Rainaldi, who enflames Philip's jealousy. About the only complaint I can echo is one that I've encountered at Gate Theatre presentations before. Either because of their accents or occasional failures to project, they can be hard to understand. Get a seat up close if you can to enjoy this evocative confection as much as possible. (Through June 8)
A Brimful of Asha - The two performers in this Why Not Theatre production, Asha Jain and her son Ravi, go out of their way to make you feel at home, individually greeting every member of the audience before he or she takes a seat. After greeting the co-stars, you proceed across the Emmett Robinson Theatre stage where a table holds trays full of samosas, a fried Indian snackie filled with spiced potato and peas. Even after everyone had filed in, we weren't ready to begin because Ravi, a perfect host, made sure that the trays and the remaining snacks were passed around the hall.

This protracted prologue serves to underscore the authenticity of the story we're about to hear - from the conflicting perspectives of mother and son. Ravi is a stand-up comedian and theater professional who believes that love and marriage are natural parts of life that will come his way, sometime in the indeterminate future, as long as he remains open to them. Asha and Ravi's father reject this passive outlook, urging their son to get settled in a respectable profession - theater definitely doesn't qualify - and move along purposefully toward selecting a mate and starting a family.
After setting out this fundamental conflict, typical of a son born in the New World whose parents hail from India, Ravi narrates his struggles against his parents' relentless matchmaking, with plenty of backtalk from Asha. When Ravi and a friend plan a trip from their native Toronto to their ancestral homeland, Ravi's parents booby-trap it with family gatherings and pre-arranged introductions to eligible young women, following their son to India to mastermind their schemes and maximize family pressure.
Asha doesn't apologize for any of it, though she does distance herself from her husband's more outrageous interventions. As furious as some of these made Ravi, he and Asha are sitting at a table as they unravel and annotate the story, both of them drinking polite cups of tea that Ravi dutifully serves. We feel more like guests than audience, almost like family, as the squabbling continues until the lights go down. (Ended on June 1)
A Simple Space - Compared with other acrobatic acts that I've seen at Spoleto in past years, classified as physical theater, I can't say that the eight performers in the Gravity & Other Myths ensemble were particularly amazing. Yet this Australian company probably brought me more enjoyment than all the others combined. As soon as I exited the Emmett Robinson, I began to ask myself why.

Part of the reason had to be that
A Simple Space
was performed
in
the Emmett Robinson, specially configured so that, sitting in the front row at one end of the mat where the troupe performed their feats, some effort was required to keep my feet out of their space. At times, performers about to participate in a segment were crouched less than a foot away from my wife Sue and me. Once when one of the guys was whirling one of the women around as if about to release her in hammer-throw style, I have to admit that I flinched.
That's close. At the Memminger Auditorium, where previous acrobatic displays were staged, I felt distanced from the performers, an effect that - compared with the Australians - was compounded by the clichéd arrogance and showiness of the performers. Instead of silently asking us with grandiose gestures if we've ever seen such magnificence, the Australians would stand there sweating, breathing heavily, as if to say, "Wow, I did it!" There was even a loser in one segment where three guys competed in successive jump-rope sprints, with the loser of each sprint taking off an article of clothing until a final grand disrobing. A delight for beefcake lovers.
Even if you weren't sitting right on top of it, the element of inclusiveness in A Simple Space could draw you in. The entire audience threw plastic balls at the troupe in one segment. Volunteers were drawn from the audience in another segment to form a prone circle onstage that a female acrobat walked over, sometimes with no more than a single stranger's hand holding her up. And in another wildly original act, audience members helped to scramble a Rubic's Cube that an acrobat unscrambled while balanced upside-down on his head, the finishing flourishes done with his hands behind his back. (Ended on May 27)
Coming soon: More reviews of dance and opera performances at Spoleto Festival USA.