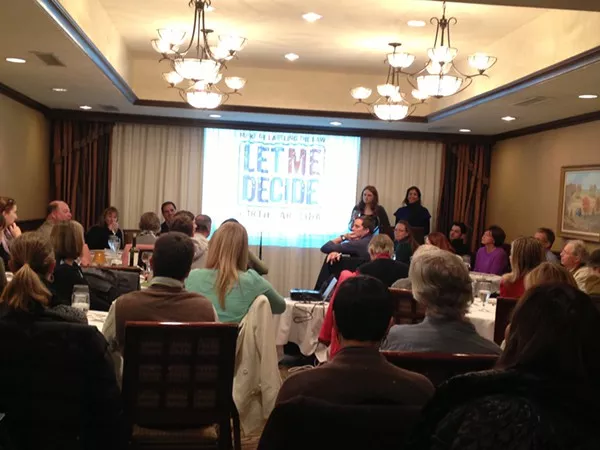 Last Thursday, a packed room of concerned citizens, local farmers and students came together on the second floor of Harvest Moon Grille to kick off the grassroots campaign to label genetically modified organisms, or GMOs, in North Carolina.
The discussion was led by Renee Maas, a senior organizer with Food & Water Watch along with local blogger and passionate activist, Vani Hari, known around town as the Food Babe. The ladies outlined the potential dangers of GMOs and more importantly, empowered the crowd to take action by sharing tips and strategies for organizing. The idea, the ladies said, was to stop waiting for the federal government to do something and begin rallying for change at the state level.
Last fall, a legislative initiative to label GMOs in California was defeated in a David versus Goliath campaign that pitted large companies like Monsanto, Nestle and Hershey against smaller companies that could not stand up to the deep pockets of the mammoth corporations.
Genetically engineered foods are causing concern among many groups of people, from farmers who are losing local control of their crops to average citizens concerned about their health. The ladies presented several compelling reasons why we need to label GMOs. Here are just a few:
1. GMO labeling is regulated in more than 60 countries including all European Union member states, Australia, Brazil, China, Japan, New Zealand, Russia, Saudi Arabia and South Korea. The European Union, in particular, requires all food, animal feeds and processed products with biotech content to bear GE labels.