Food lovers know that we eat with our eyes before the first morsel touches our tongue. So as summer comes a'calling, it's no surprise to see flowers popping up on plates all over town. Squash blossoms may be headliners (read this post) but from bachelor's buttons to zinnias, Charlotte's chefs are playing with all types of colorful blooms.
Kim Shaw
Asparagus with chive and sage flowers
Flowers are pretty, but you might wonder whether they bring real flavor to your food. A recent Facebook conversation initiated by chef Joseph Bonaparte (former culinary director at the Art Institute of Charlotte, currently at Horry-Georgetown Technical College in Myrtle Beach) raised just that question. "[Is] putting little flowers on your plates the new micro greens?" he wondered.
Plenty of chefs responded, including Paul Verica, who called himself "a flower guy" while agreeing that "there must be a purpose for whatever you put on a plate." At Heritage Food & Drink in Waxhaw, Verica's doing more than just sprinkling pretty petals on his food. This spring, he created his own "bloomin' onion," a tempura-battered onion flower fried and served intact on its stalk as an appetizer.
That approach is a far cry from violet-strewn wedding cakes, and Verica confirms he uses flowers more on savory dishes than sweet. This week alone, his menu features seasonal blossoms on three separate plates, including one which contrasts nasturiums' "peppery bite against the sweet earthy flavor of … beets."
Inspired by one of Verica's plates, chef Scott Craig of Myers Park Country Club has also begun using edible flowers in his own salads. Online, he explains the substance behind the beauty. "I think our barely evolved brains still identify foods that are vibrant, colorful and moist as being nutrient dense ... I think that when we look at a plate and say 'it needs color,' we're just giving expression to that subconscious awareness that it isn't balanced, or as nutrient-dense as it should be."
Verica also addresses the balance in a dish, explaining that flowers impart not only color, but also flavor and texture to a plate. Aside from the bite of nasturtiums, some varieties offer earthy or floral notes in a dish, while others he describes as more neutral tasting.
Since Verica estimates he uses up to a dozen different types of blossoms, you might wonder how he learned about working with them. He credits Kim Shaw of Small City Farm in Charlotte for first introducing him to edible flowers, noting her "whole plant approach."
"It's nice to be able to use more than one part of the plant," Shaw explains, citing the utility of using herbs for their flowers as well as their leaves. "It's nice to have chefs willing to do that." She started selling edible flowers in 2008, and says today Verica and Ashley Boyd of 300 East are her two most regular customers.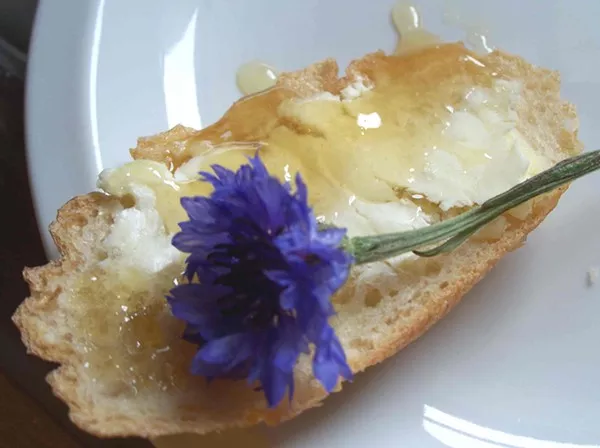 Kim Shaw
Bachelor's buttons
Nasturtiums, overwintered in a greenhouse, can begin Shaw's flower season as early as February. Then follow bachelor's buttons (also called cornflowers), marigolds and zinnias, which will bloom until frost takes them in September or October. In between, plenty of herb flowers join the party, such as chives, oregano, sage and rosemary. Even arugula, that trendy green favorite, carries taste to the plate through its delicate white blossoms.
This summer, don't limit yourself to smelling the flowers. Go ahead and try tasting them, too.